March 10th, 2014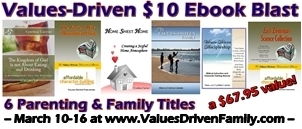 Our family has been personally blessed by the work of the Carriers and their faith-based parenting resources at Values Driven Family.  This homeschooling family is also involved in church planting and support in Kenya and they need to renew their license to minster there.  It will cost $6,500, and they need to raise funds!
They have put together a bundle of all their e-resources on parenting and homeschooling and pulled together a great group of free e-titles as free bonuses - all for $10.00 from March 10th-16th!  The Carrier's titles are worth almost $70 and the bonus titles are worth more than $70!  Pretty good deal, AND you get to support their ongoing work in Africa!
We've been blessed by the opportunity to contribute one of the  free bonus titles: our full length  copywork book (worth $4.95) from our family business – Bogart Family Resources - Copying the Poems: The Voice of Spring – HWT 3-A.  This title is our beginner level of Handwriting Without Tears-style cursive.  It includes the complete text of three well-known poems and four scripture passages that focus the heart and mind on the delight that God brings to the hearts of man-kind when new life springs forth from the earth He has created. Includes 25 lessons with three full poems and KJV Bible verses in HWT-style cursive.  Features regular 3/16?, two-line style; line-by-line models; pictures to color; and room for drawing.
Please take a look and consider supporting the ongoing work of this homeschooling family of ten in Africa!  You'll be getting a great deal on their edifying resources (and some great homeschooling resources) at the same time!