August 26th, 2008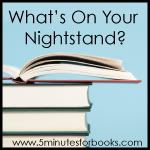 Wow, time goes fast!  Time for the August – "What's On Your Nightstand". I actually don't have a nightstand but I do have a bookshelf right above my head in bed. So this is more like, what's on my bed-bookshelf ;).
I'm still working on a few books from last month:
The Deuteronomy Project by Richard Couser – big book, slow going…
Still working on Unleash the Poem Within, clever, and witty but slow going.
Finding Ever After by Dr. Robert S. Paul- temporarily put aside.
Be Last by Jeremy Kingsley and Exposing Darwinism's Weakest Link – delayed.
I'm afraid these got bumped down the line when new, fascinating books arrived that jumped ahead of the cue.  Naughty books, not waiting their turn!
Top of my reading pile right now – another naughty, naughty book.  This one is from Bethany House- Just Jane by Nancy Moser.  It's a historical fiction novel of Jane Austen's life.  I'm absorbed, I can't help it…that naughty, naughty book!
Also reading aloud to my daughter – The Mandie Collection, Volume 1.
I've also picked up Wild Goose Chase – fascinating stuff, and Beyond Me (tour coming tomorrow, great author).
Audio books? A History of Hand Knitting by Richard Rutt.
So, there's my reading life for you this past little while! As always, stay tuned for reviews of ALL of these books, and more! Whew!  Just subscribe in the left hand bar to keep up with the reviews, contests, photos and other good stuff!
If your book has been delayed, don't feel bad author's/publicists/publishers!  You know how it is, you're halfway through a book, then you get shanghaied (sp?)…another book jumps up, grabs you around the throat and won't let you go?  I'll finish them…don't worry!