September 2nd, 2011
There is something very special about playing games together as a family that helps to provide motivation for memorizing facts and details that would not necessarily be retained otherwise.  Our family is preparing to embark upon a one-year overview of world-history and we found that Civilize This! from Griddly Games was a perfect pre-study game to arouse interest in world history and the many unique peoples and cultures that populate it.

Civilize This! can be used as a stand-alone game (at home or for travel), or as an add-on to the original Wise Alec Trivia Game  (which comes with a game board and a base set of question cards).  Because our family doesn't own the base game, we played it together as a stand-alone game.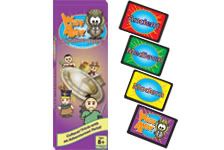 First of all – this game comes with incredible packaging!  It comes in a compact, sturdy, brightly-colored box that closes with a flip over magnet strip along its long side.  Upon opening it, I found that the instructions are printed right on the interior flap of the game box.  All of the cards are provided with their own nesting slots in a plastic liner, and even the custom-dice comes with its own little cuby hole.  I was so impressed I have to say!  I don't normally get excited about packaging, but this really WORKS for me as an organizationally challenged mom.  No rubber bands or ziploc baggies needed here ladies!
When you are ready to play you can actually just roll the die against the interior side of the box lid because the magnet strip stands up to form a barrier for the die.  When my daughter asked my husband to play this game with her the first time (yep, she went and got it, and ASKED him to play with her the second day the game was in the house) she said, "We can play it ANYWHERE Dad!  You just roll the die right here!"  And so they played it on the couch!  I really like how the travel game design allows for flexibility.  My daughter and I often play it on a tiny scrap of computer desk edge while I'm nursing the baby, it's very compact, and very doable to get it set up, even one-handed.  The only extra you'll need is a pencil and paper to keep score.
So, I have a question – have you ever been bored out of your tree when playing games with your children?  Maybe you already knew everything in them, or they were just SO repetitive you could barely stand to play?  Well, although Civilize This! can be played by children as young as eight-years-old (I think this is based upon reading ability), it is very flexible to allow older players like parents teenage siblings to join in.  2-6 players can join in the fun allowing for many different configurations of family members to enjoy this game together.  The game allows for both flexible scoring rules to make older players work harder as well as two levels of question difficulty, the easy level awards three points for each successfully answered trivia question, while the difficult level awards seven points.
The random roll of a color-coded die determines whether or not players get to answer a question drawn from the 'Ancient Cultures', 'Medieval Cultures', or 'Modern Cultures' trivia questions.  While this doesn't QUITE fit into the popular neo-classical four-year history cycle, you have to admit that it does come fairly close!  The game includes fifty cards for each of the time periods included and 50 'Wise Alec' cards that are essentially wild cards.  Together they provide 150 easy trivia questions and 150 difficult trivia questions, not including the bonus questions included on the Wise Alec cards.  I have found that the questions draw from cultures all around the world and are not restricted to items of interest in the study of Western civilization.  There are questions from Asia, the Americas, and others, along with ones from Europe, Rome, and Greece.
Special colors allow players to select their own category for the question, or at times for another player to select the category.  The purple dot means you get to choose a 'Wise Alec' card!  Ornamented with a wise owl wearing an ancient Egyptian headdress, this category is my oldest daughter's favorite (age 8).  There are funny activities like speaking in another accent, doing dance moves, and many more, along with bonus points awarded for the proper etiquette point listed on the card, and penalty points detracted for poor behavior listed on the card.  There are also brainteasers, tongue twisters, and other fun points-earning activities to mix things up and provide fun bonding activities between family members.
I can see why Civilize This! is a Dr. Toy Winner (100 BEST Children's Products), it is very well designed, educational, and keeps them coming back for more!  As an aside, Griddly Games the makers of the Wise Alec series of trivia games, is actually based in Canada, just like me.  Its always fun to find and support Canadian companies!  As a result, you can find this game not only online at places like Amazon.com for $14.99, but also at local retailers like Toys R Us – you can find the list of retailers here.
As our study of world history continues I hope that we can eventually move up to the 7-point 'difficult' questions as our knowledge base expands.  I have to admit that even my husband and I are sticking with the easy questions for now!  Once we are done with our overview of ancients I might start to bump up the difficulty level for myself, and again when we complete our medieval studies, in that category, and so on.  This flexible, compact, and versatile game has a lot of potential to not only add a fun 'together' activity to our homeschooling lifestyle, but also to cement key historical, geographical, and cultural facts in our minds.
Disclosure: A free physical copy of this game was provided for the purposes of review for the TOS Crew.  All opinions and thoughts shared are genuine and my own.
Click here to read more reviews of both Civilize This! and Nature Nuts (another Wise Alec travel game/expansion set from Griddly Games).