September 10th, 2011
Have you heard of Big IQ Kids before?  Most homeschoolers interested in online learning have, because they have a renowned free spelling and vocabulary program, as well as a free math drill and free geography program, but in case you haven't, let me tell you about them.
First, I'll tell you about their free program.  Big IQ Kids has free programs for learning basic math facts, a wide variety of spelling and vocabulary words (these two work on conjunction with each other), and the states, capitals, and major points of interest about each U.S. state.
Each time a lesson is completed in one of these programs the child is awarded a game coin that can be redeemed to play one fun game in the games area.  These are fairly brief in comparison to the lessons, which are around 10 minutes long, but they serve to keep children VERY motivated to do their lessons on Big IQ Kids, particularly if you limit screen time and electronic games in your home.
The Premium subscription gives you access to the same programs that are available for free to the general public, but with less advertising (there is still some unfortunately), and with timed quizzes enabled, reporting capabilities and tracking of mastery and progress.  The premium programs only move on once the subject matter has been mastered and it keeps track of your child's advancement.
Children can also create their own customized 'buddies' – which are an avatar that can be modified for one game coin.  Game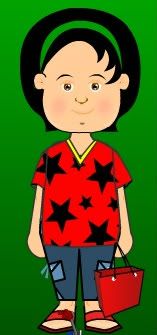 coins can also be saved between sessions by premium members and your children can then have their names recorded if they achieve a high score – very motivating or many children!  A wider selection of reward games is available for Premium members.
My oldest daughter (8) was the child best suited to try out Big IQ Kids.  Children who are independent readers will have the easiest time navigating the site, though there is a Premium-based Spelling Junior program designed for younger children.
The math program is an effective, if basic review of the four basic operations, it isn't a teaching tool but is designed to practice and master the math facts once they have already been taught conceptually.  I really like that it is easy to customize the difficulty level of the questions and the number of questions presented in each session.
The spelling and vocabulary program is fairly traditional – assigning spelling words and reviewing them using a number of techniques.  There are some phonics and spelling rules provided, but it is fairly basic.  The nice thing about this program is that you can either progress through the many spelling lists available or manually input your own practice list to match the spelling concepts you are working with in your main spelling program.  That being said, the Big IQ Kids spelling and vocabulary can easily stand alone for a natural speller.
The geography (learn the states) program is pretty neat because it teaches the state's name, location, abbreviation, capital, landmarks, economy etc. in one program.  This is sort of lecture-style direct instruction – the facts are presented with graphics and at the end some questions are asked.  I did have some technical problems with the voice and presentation not lining up properly with each other and being 'laggy' or slow.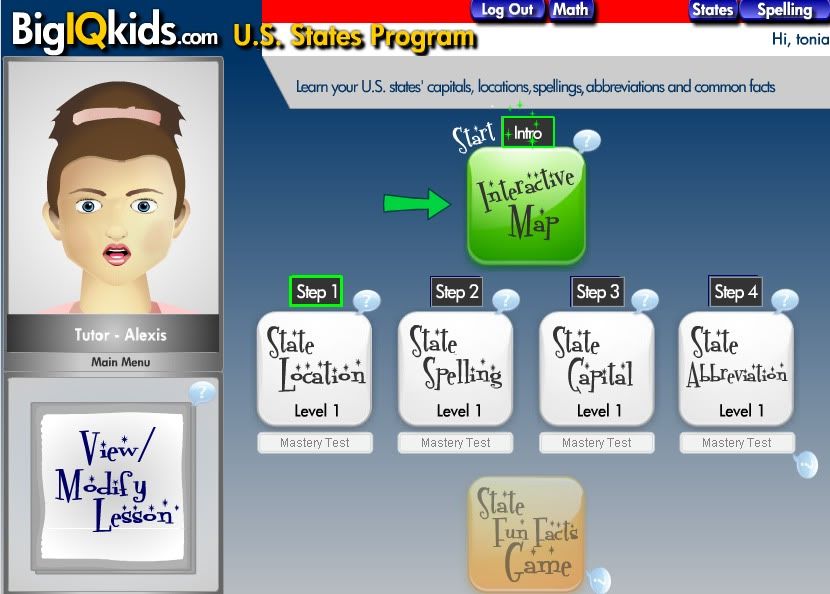 There are some things we didn't like as well – there is still advertising on the site – some of it is rather inappropriate for our family (ads for psychics etc. in the sidebar).  The site could also use a major upgrade – the navigation is a bit confusing and hard to learn; it doesn't all connect well together and the programs.  The site really needs to be updated as well.  The learning programs are all a bit dated – from the graphic style to the awkward computer generated voices.
My daughter didn't notice though and she was willing to plow through almost any number of rather rote math drills and spelling lists in order to earn those game coins and go have some fun!  When I asked her what she thought of Big IQ Kids she said, "I really like it.  I like the games.  4.5 stars." (That's out of 5 by the way.)
So, what should you do if you think your family is interested in Big IQ Kids?  Try out their free programs to get a good feel for how they would work for your family, then try their 7-day free trial of the Premium programs so you can determine how valuable the tracking and other benefits are to you.  To be honest, I only like to use programs that lead my children towards mastery of content once they are in second grade and over so I really appreciate the tracking and progression that the Premium program at Big IQ Kids provides.
The Premium membership costs $9.99/month or $49.99/year, which is actually a pretty good price for subscription-based online learning.
Don't forget that you can find more reviews of Big IQ Kids from other homeschooling moms at the TOS Crew blog here! 
Disclosure: I received a one-year membership to Big IQ Kids for the purposes of this review.  All opinions are genuine and my own.