October 16th, 2011
Our family received a downloadable version of Visual Latin Level 1, Lessons 1-10 to review as part of our duties on the TOS Crew.  What a blessing it has proven to be! 
Visual Latin
is a lot like attending Latin class, only more fun!  These are visual Latin lessons (hence the name!!) that are recorded on video for your child to watch.  There are also pdfs included of worksheets and vocabulary lists for review.
I took a couple of years of Latin in high school and the instructor's approach reminds me a lot of my high-school teacher's.  Standing in front of a blackboard, teaching grammar, vocabulary, and sentences, Dwane makes it so much more engaging.  He's a bit zany, his sentences are funny, and he gets students right into working with reading complete sentences and translations without bogging down in a LOT of grammar.

Each lesson is broken into three parts, the first teaches grammar, the second teaches sentences where you can see the grammar in action and develop translation skills, and the third teaches reading – this is sort of an immersive experience.  I'd have to summarize the program as more of a reading approach to Latin than an old school all grammar all the time approach; if you're familiar with Cambridge, this is a bit similar.  So, there are 30 lessons per level, each level is a year's worth of study (unless you are a high school student), so you can do one lesson each week, one part per day and one day of vocabulary review would make four days of Latin/week pretty easily – the lessons are short and easy to get done.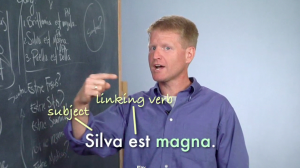 If you're wondering about which pronunciation this program uses, there isn't really an easy answer.  Dwane does his own Latin thing.  It's a bit classical, a bit ecclesiastical, and a bit Dwane.  I love his approach (explained in the free lessons – see below), he's pretty laid back about pronunciation approaches, his is a hybrid, but I love his accent.  My daughter is already mimicking his cadence and style of Latin speech.
Your child will need to be familiar with some basic grammatical concepts before diving in – verbs, nouns, and pronouns at this level.  My oldest daughter (8) is already pretty familiar with these ideas, and you need to make sure your child is comfortable with them, because the course dives right in and starts with the most important Latin verb 'to be' (sum, es, est, sumus, estis, sunt).  You can find the complete scope and sequence here as a pdf download.
Any beginning Latin student who can read English confidently and has basic grammatical knowledge can profit from this course regardless of age, though it is suggested that high school students supplement with further study using Lingua Latina Pars 1 and Lingua Latina Exercita 1 alongside level 1.
We purchased an iPad a couple of months ago and have been learning how to use it in our homeschool, and Latin on the iPad is amazing.  Visual Latin also has DVDs available to purchase, and the downloads can also be used on your computer, iPod or iPhone – there are two versions, high-resolution for the iPad and lower resolution for the iPhone/iPod.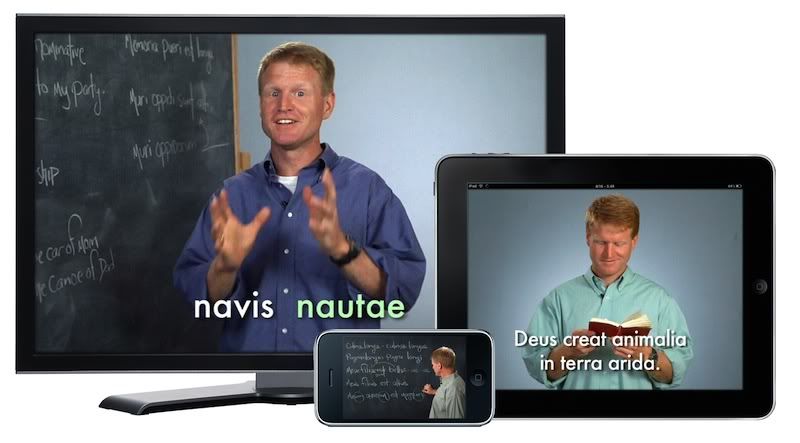 My daughter has some sensory integration issues – especially when it comes to handling paper (that makes homeschooling fun).  I was so surprised when it was time to do the Latin worksheets – I had recently purchased PDF Expert which lets you write directly on pdfs, so I let her do her worksheet in that…and she had fun!
We did one part of a lesson a day, and there is one corresponding page for each part of the lesson.  When I said it was time to do her worksheet she said, "Woohoo!"  Okay, we study Latin and I have NEVER heard "Woohoo!" when it comes to doing a worksheet.  We're in love with doing worksheets on the iPad now so I completely appreciate the all-digital option.  If you don't have an iPad you can print the pdfs.
My daughter is literally BEGGING me to keep going with Visual Latin instead of our other program now, so we're going to keep on with it and see how it progresses!  I can't tell you how many times she's told me how funny her Latin teacher is, she's really enjoying the language now and actually starting to understand how to read it.  There is also Christian content that is very naturally presented within the course – double bonus!
Do you want to try Visual Latin out?  I recommend EVERYONE get the free introductory lessons if you are interested in learning Latin through ANY program.  The first four introductory sessions explain a bit about Latin as a language, and the many benefits to be had by learning Latin (there are MANY, trust me, Latin is worth it).  You also get two complete regular lessons to see how the course itself is structured and laid out.  And…they are free!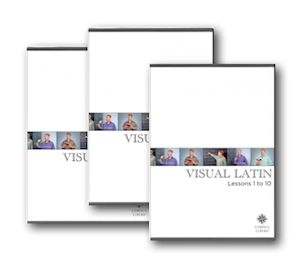 When you're ready to purchase, you can buy lessons 1-10 as a download for a single family for $25, or get the DVD for $30.  If you buy the entire first level you can get lessons 1-30 (all of level one) for $80 on DVD – a bit of a discount on that.  Level 2 is also available and there are different prices if you want to show the recordings to a group or co-op.  There are also live online Latin courses for Lingua Latina available if you prefer to go that way.
You can find many more reviews of Visual Latin over at the TOS Crew blog here!
Disclosure: I received Visual Latin Lessons 1-10 Download for free to review this item.  All opinions are genuine and my own.