December 4th, 2011
Many of our blog readers know that we live in Canada (yay!) where French is an official second language.  I've always considered teaching some French to my children for this reason, French is everywhere in Canada – on packaging, ingredient lists, and those fluent in French have more job opportunities as well.
When I heard of Le Francaise Facile (The Easy French) from Great Commission Languages I was intrigued.  Not only does the
program include a variety of French accents as it progresses through the years and levels to help develop an international ear for French, but it also teaches French PHONETICALLY and from a Christian point of view.
Obviously, if there were ONE French program I was going to teach with my children, this would be my top pick!  I love phonics, and I love Jesus even more ;).  It is also designed by a native French speaker who is a homeschooler – I love programs made by REAL homeschooling moms!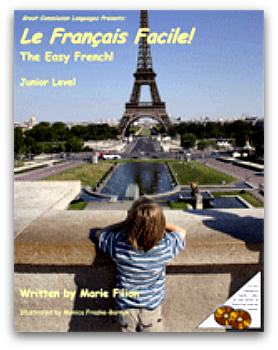 There are a few different ways this program is presented; the Junior Level for K-3 is the one we will be trying because it is best for families with younger children.  Our oldest is 8, and I have a 5 and 3 year-old as well so I thought this would be best for us with so many littles tagging along!
There are 34 lessons in the text, with lots of stories and songs being included on the two audio CDs (they also have printables on them).  You can find the table of contents on the sample page here.
The classic-style The Easy French (Level I and Level II) is recommended for families with children of all ages.  Both the Junior and classic style levels are non-consumable (requiring printing from a CD).  There is a new format available that is consumable and designed for older students as well – IA, IB, IIA, and IIB.  If you'd like to read more about the different French programs they have for homeschoolers, you can see them all listed here.
I'm so excited that the Junior Level of Le Francaise Facile is waiting for me in the city to pick up on my next trip in!  I will update you when I've had a chance to try it for ourselves!
Until then – check out these samples of the program – they are what really convinced me of the value of the program – it is incredibly cute and smoothly integrates both French and English within the audio to ease children naturally into understanding French vocabulary and grammar without explicit drill-type instruction.  Very fun!  There are audio samples and pdf samples to learn more about the program.
The Easy French Junior Level or Le Francais Facile! Junior is available for $69.95 from Great Commission Languages.  It has

won many Practical Homeschooling awards and is a favorite amongst REAL homeschoolers, so if you need to teach French, or would like to –
go check them out
!
Disclosure: A copy of this product is being provided to me for the purposes of obtaining my objective review.