March 14th, 2012
My oldest daughter is eight (third grade) and has been BEGGING me for independent research options.  When the opportunity came up to review Creek Edge Press' task card sets I was excited to give them a try.  We chose the American History Task Card Set ($20.00) because of her ongoing fascinating with First Nations (Native American) life.  This American history course covers much more than that though – it spans American history from Native Americans right into the 21st century over a set of task cards along with a teacher's manual.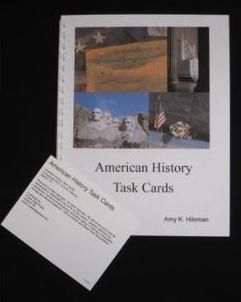 Designed with a blend of Montessori, Charlotte Mason, and Classical educational principles in mind, the course is somewhat flexible in that you get to choose the resources you use to complete the suggested tasks.  The cards themselves make a framework through time that you and your child work through to cover the content.  You can see images of a variety of different cards here.  It's a bit tricky to explain, but once you get your hands on the oh, so helpful teacher's manual and pull your resources together (a blend of reference materials – encyclopedias, dictionaries, atlases, and living books etc.) it starts to all make sense.   You can also check out the FAQ at Creek Edge Press to help you out with some of the nitty gritties.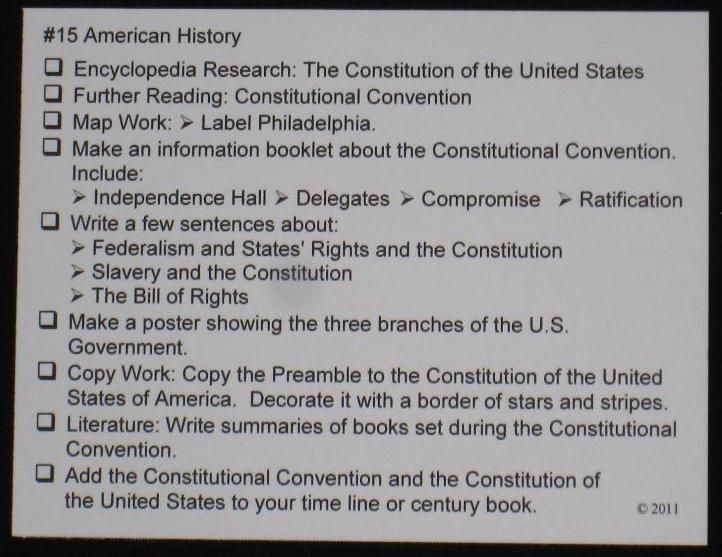 While suggested as a course of study for K-8, younger children will need direct one on one help every step of the way to make this course work for them.  I think where it truly shines the most is for older children from grades 3-8.  As their parent you can help them to acquire valuable research skills while using the task cards and rich research topics to drive the acquisition of the research and writing skills they need to complete their projects.
If you are a new homeschooling parent, you should know upfront that this course isn't open and go.  It requires you to use the extensive resource list to decide which source material and resources you'll work with and you'll also need to help your child pick a project to work on each week.   There is some prep and planning time and a learning curve as well as you and your child work together to learn the needed skills.
I absolutely love the teacher's guide, it tells you how to set up the area, gives you lots of mom-to-mom helpful advice on how to actually dig into the course, get it going, and thoughts on how to ease in and adapt that I've found SO helpful.  The booklists are absolutely amazing, giving you a lot of choices to pull from (you might even have quite a few titles on your shelves already – if not they are all sound investments).  You can find the booklists here to give you an idea of their richness.
This is really a flexible course where you can go deep or shallow depending on the interest levels of you and your child.  I have to say that the approach itself is quite unique, but flexible, practical, and very valuable for homeschooling families.  It just makes great sense to help your child develop research skills while exploring history at the same time – it works great with notebooking too!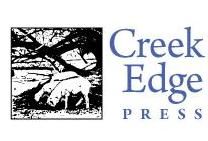 Many other card sets are available across the subjects of Science, History, Geography & Culture, Art, Music, and Grammar Reinforcement.  You can find them all here.
Disclosure: We received a copy of the American History Task Card Set in order to write this review – all opinions are genuine and my own.