April 16th, 2012
We previously reviewed an AIMS title on early geometry and I was so impressed with the way their pre-planned hands-on learning activities reinforced concepts that I jumped at the chance to review their title for time telling skills – It's About Time.  Designed for children from kindergarten to grade 2 in mind, I actually wanted to try this one with my grade 3 daughter who, though we've taught time over a few years, still struggles with understanding it completely.
I think it's so common for children to have a tough time getting to the mastery stage of telling time from what I've seen in our home and my conversations with other homeschooling moms.  It takes a lot of practice, practice, practice for this skill to become second nature – some public schools are even abandoning the teaching of reading time on analog clocks and only going with digital (which honestly shocks me).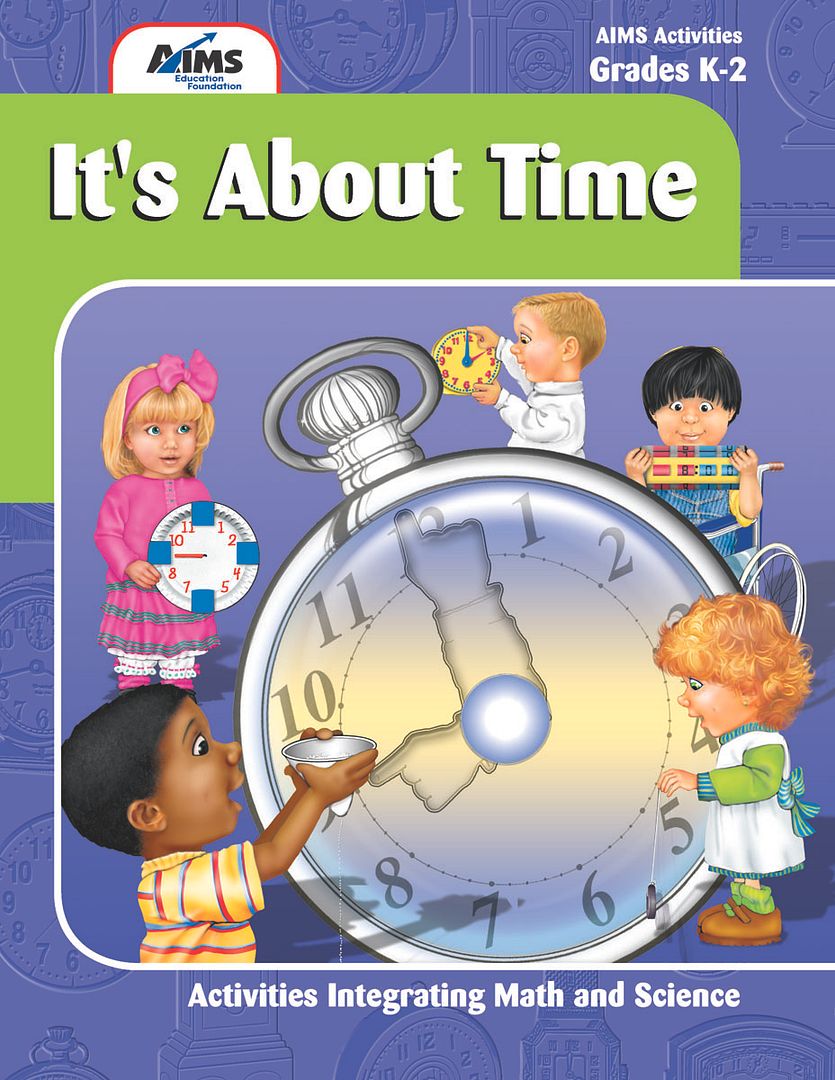 The book includes 22 fully planned activities complete with printables and teaching plans that move from understanding the passing of time conceptually, through to learning about and reading different clocks, and learning about elapsed time (how much time has passed).  The activities are listed on a traditional table of contents which is also followed by a list of the activities broken into the major concepts taught and the specific concepts taught in each activity to really help you focus in on the skills your child needs more help with.
The book is filled with playful illustrations appropriate for young children and the manipulatives you make and use together with your children are a lot of fun for everyone and really help to cement the concepts – the AIMS books are so great at doing this.  There is even a booklist (ah booklists) of books for young children that help to develop a sense of time and a conceptual understanding of it.
Because a wide and comprehensive range of time concepts are covered, this book is easy to use as a supplement and hands-on reinforcement for any existing time concepts that are included in your math curriculum.  Most math programs inclue teaching time, but sometimes they move too quickly, don't have enough review often enough, or don't include multi-sensory learning – you can use It's About Time to remedy those problems.
Something to keep in mind is that although the teaching instructions and printables are all pre-planned, the directions are written with classroom teachers in mind.  You'll find some activities that ask for you to place four children at each table etc. and you'll need to be flexible and a bit creative at times to make these activities work for your own family – single children will be the trickiest if they don't have siblings to do group activities with (you'll have to get involved in one of the student roles yourself!)
The book includes reproduction rights for up to 200 copies of any part of the book – that means it will serve pretty much any homeschooling family for their entire homeschooling career, even if you have multiple children!  The book is available either as a PDF (easy to print from) or as a printed book with a CD that includes all of the reproducibles on it.  If you look at the PDF version you can see a free preview of the book online.  The reproducibles are also printed directly in the book if you prefer to make traditional photocopies (I personally hate doing that, I love the CD we received with our printed copy).
To read more reviews of this and other AIMS titles, please visit the TOS Crew Review blog here!
Disclosure: I received a physical copy of this title in order to write this review.  All opinions are honest and are my own.