May 25th, 2012
WriteShop's curriculum for older students (their classic flagship title is for high school) has long been a standard for homeschooling friendly writing instruction amongst homeschoolers.  Though I'm not familiar with their classic products, their series for younger children is fascinating and well worth investigating if you want to explore writing with your younger children in a very parent-supportive environment.
My oldest daughter (9) and I dug into WriteShop Junior Book D – the first in the latest releases for upper-elementary students.  We have done some work with the Primary series, which was excellent, so I was looking forward to trying the Junior level books.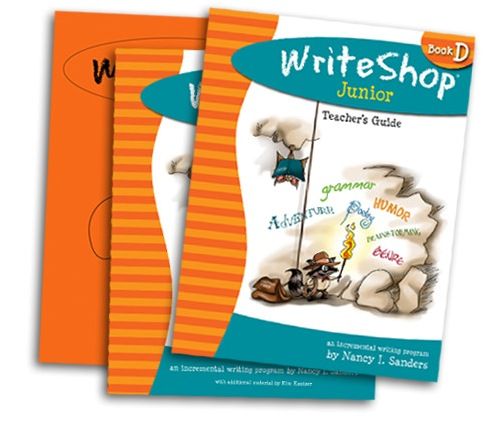 Designed for third and fourth graders (and even reluctant 5th and 6th graders with little past experience writing) – we found that there is enough reference information and review provided that even if you haven't done much formal writing with your child yet, you can jump in with the Junior series without having completed the Primary books.  This was my biggest question because while we've skipped around here and there with grammar and writing instruction, we haven't completed a comprehensive grade level course of study to date.
The core of the program consists of the Teaching Guide and the Student Activity Pack that contains the printable sheets your child will need to complete the lessons.  Both are available either in print or digitally – something to keep in mind is if you buy the physical copy of the Activity Pack you'll need one per child – it isn't reproducible.  The digital copy is reproducible within your family.
WriteShop Junior is what I'd classify as a more parent-intensive program.  There is advance prep work and supply gathering required on the part of the parent, and there is quite a bit of direct teaching provided by the parent in each lesson.  Once you get into the swing or the program and get your basic supplies gathered and organized, the advance prep is cut back a bit.
A great way to reduce the prep time is the handy (optional) Time Saver Pack.  I HIGHLY recommend you get this – what a lifesaver it has been for me!  It really cuts down on having to create your own graphics and hands-on activities for the course.  Available digitally and in print, both options are reproducible (though the physical copy is limited to only certain pages).

Because of the many hands-on elements this is such a great program for children who need a multi-sensory approach to help cement new ideas and concepts in their minds.  My daughter absolutely loved the time we spent together making the Fold N' Go reference's – these are like little lapbooks that emphasize certain rules of writing so your child can refer back to them at any time – there is one completed for each lesson.  There are 10 lessons in all and each contains a wealth of activities (each lesson follows the same basic pattern) – each is designed to be completed over a period of three weeks, though the speed can be bumped up to two weeks per lesson.  A suggested teaching schedule is included to help you see how the different parts of each lesson can be spread out throughout the three-week teaching period.
In all, my daughter loves WriteShop Junior Book D and has consistently ASKED for her lessons (this is always a huge bonus to have children motivated to do their work!)  As a mom, it has taken me a little while to become familiar with the pattern of the lessons and the way the course is structured, but to see my daughter so excited by writing and the hands-on activities that I don't have to think of (I'm so bad at planning those) makes it worthwhile for us.
Don't forget to visit WriteShop's website to read more about this curriculum.  You can buy WriteShop Junior Book D directly from WriteShop here in both digital and print options ($33.95 digital, $39.95 print, $13.95 for the Time Saver Pack either format).
You can find more reviews of this and other WriteShop products at the TOS Crew review blog here!