June 1st, 2012
The Dive Into Your Imagination series of nature DVDs are professionally produced by scuba diver and underwater photographer Annie Crawley.    These super child-friendly but also educational DVDs are hands down the BEST-loved nature DVDs my children have watched.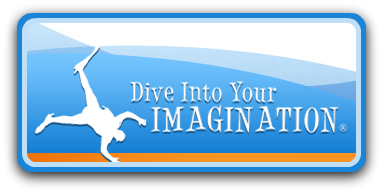 We received Who Lives in The Sea? to review – recommended for Pre-K and up.  ALL of my girls LOVED it (from preschool to third grade) and have asked for it repeatedly – even as the only one recreational DVD per day choice!  They sit glued to the screen, laugh, sing along, and have even tried out the hints in the "Helping Your Kids Love The Water" section of the DVD.  The DVD can be viewed in English, Spanish, or with music only.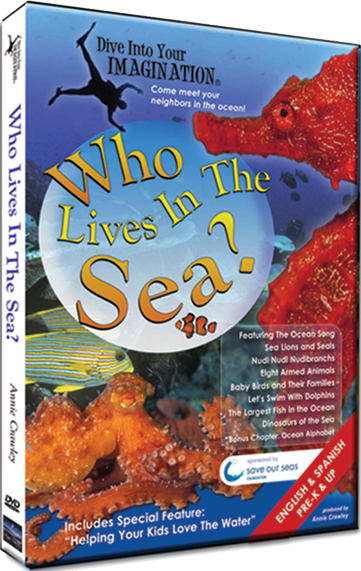 There are eight main sections including: Let's Swim With Dolphins, Sea Lions and Seals, Nudi Nudi Nudibranchs, Whale Sharks Are Big Fish, Baby Birds and Their Families, Eight Armed Animals, Turtles: Dinosaurs of the Sea, and The Ocean Alphabet.  Each section introduces children to facts about fascinating underwater creatures along with awesome live action footage of the animals in their natural habitat with professional background music.
My favorite section was on the eight armed animals, the cephalopods – absolutely stunning footage of their camouflaging abilities and their fascinating movements.  The girls (3, 5, and 8) loved trying to shout out their guesses about the animals that sound be named in the ocean alphabet where 1-3 underwater animals are named for each letter of the alphabet.  There were a few old earth references, but honestly, it was very very little compared to most of the nature documentaries that we own.
This DVD would make an excellent warm up activity for an underwater unit study or as an awesome, delight-driven introduction to the rich wonder of colorful underwater life.
Educator guides are also available for the DVD, one for Pre-K, and another for Grades 1-3.  These are extensive, full color guides that include a wealth of activity ideas, website links, supplementary reading etc.  The guide for this DVD for grades 1-3 is 347 pages!  It even includes piano music for "The Ocean Song" from the DVD.  These guides are $299 each for the printed copies and $69.99 each for the downloadable pdfs, but if you mention with your DVD order that you're a homeschooler, you can receive the guides for free! In all honesty, I'd never spend that much for a teacher's guide for a single DVD, but it's a great inclusion that comes free if you mention this offer with your order!
We highly recommend this series of DVDs, and my children are eagerly encouraging me to buy the others in the series!  Each DVD, including Who Lives in the Sea is available for $19.95.
Don't forget – you can find more reviews of this and other Dive Into Your Imagination DVDs at the TOS Crew blog here!